The UK's leading integral blinds supplier, Morley Glass, has invested in major showroom renovations at Wakefield-based B&P Windows, helping them to transform their outdoor showsite.
During 2022, B&P Windows began transforming existing buildings into state-of-the-art showrooms dedicated to all things aluminium. In total, there are three brand new spaces where homeowners are able to browse their entire range of aluminium windows, entrance doors, bi-folding and sliding doors, as well as aluminium lantern roofs, flat glass roof lights and even internal doors.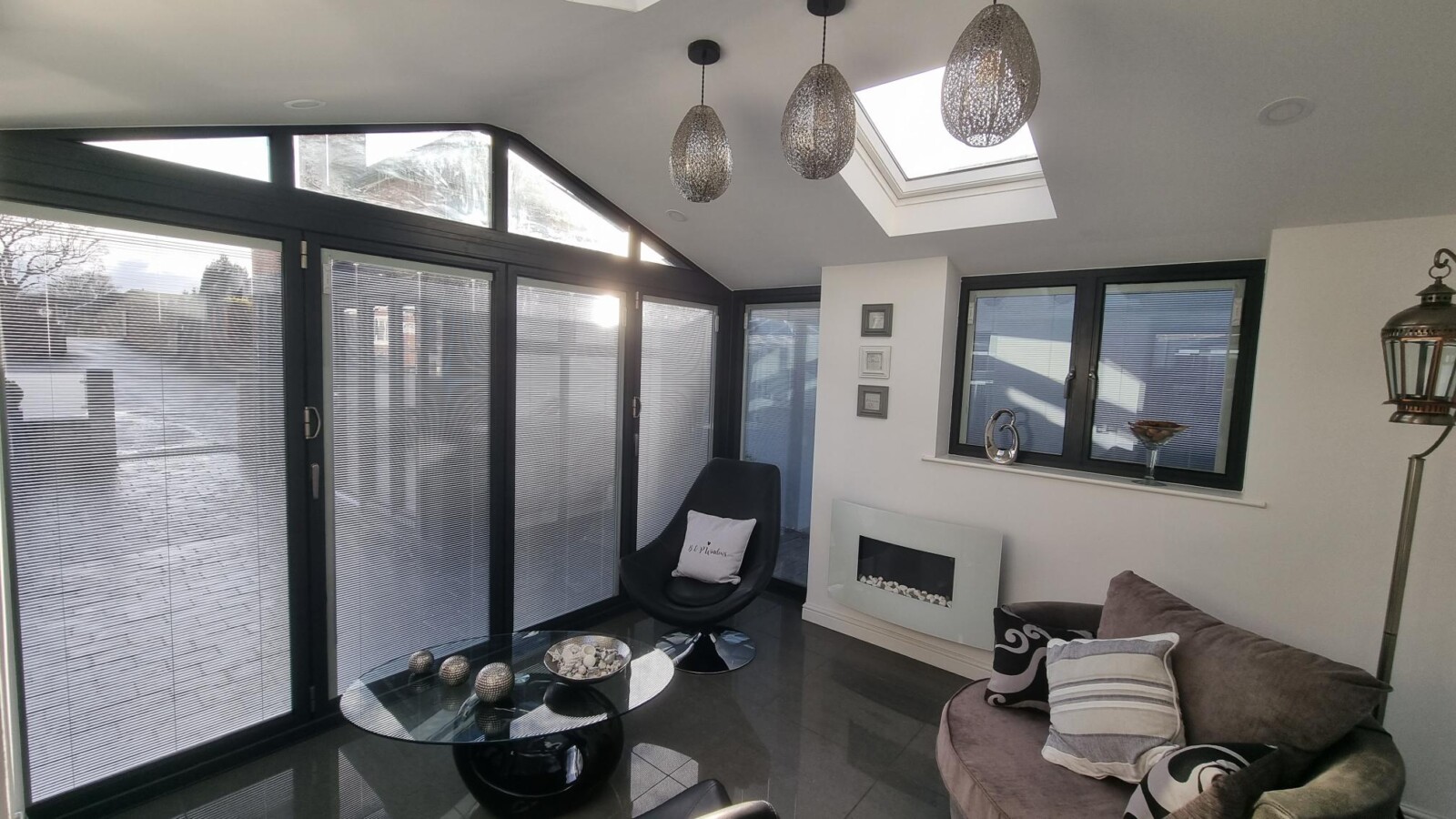 A major part of the plans was to display a variety of high-end integral blind options throughout the new showrooms. As part of a long-established relationship between the two companies, Morley Glass agreed to invest in the spectacular new showrooms, displaying a range of their superb integral blind products, including the SV Slider cordless system, the W Smart system and the C System manual control.
Director of B&P Windows, Justin Grafton-Holt, commented: "We have always received fantastic support from Morley Glass throughout our many years working together. Their customer service has always been top notch and no one else comes close when it comes to integral blinds.
The aim of these new aluminium showrooms is to display the very best the booming aluminium market has to offer. But there is also a natural affinity between aluminium and integral blinds. Both are high-end products so there is very much a natural fit between these two product groups. We are particularly impressed with the W Smart solar-controlled blinds. They certainly give the wow factor when we have clients in our showrooms, and being able to operate them all via a single remote is a classy touch.
We are once again grateful for the support in B&P Windows shown by Morley Glass and very much look forward to increasing our sales of integral blinds even further in the coming years!"
Ian Short, Managing Director of Morley Glass, said: "We are excited to have played a major role in the creation of these new aluminium showrooms. Our partnership with B&P Windows goes back nearly two decades, and they have grown with us along the way. What is exciting to see is that they have recognised where the market is headed and invested themselves in fantastic new spaces to be able to take advantage of the rise in demand for aluminium products.
There is a wide array of integral blind systems on display at B&P Windows, not only in their new aluminium showrooms but also in their existing window and door showrooms as well. We know that our partnership is only going to be more profitable for both companies in the years ahead and we're excited to watch the success of this new investment flourish!"
Integral blinds are not the only area where the two companies work together. Since 2019, B&P Windows has been supplying Morley Glass with all of their post-consumer glass waste which is then sent to the on-site glass crusher in order to be recycled. This vital source of material means more recycled glass enters the circular manufacturing system, reducing carbon emissions and helping to fund the local investment fund that Morley Glass uses to invest in local community projects.
To find out more about the entire range of integral blinds from Morley Glass, visit www.morleyglass.co.uk.
The new aluminium showrooms at B&P Windows are now open to the public with or without appointments. To find out more visit: www.bandpwindows.co.uk
Sponsored news from Morley Glass
To get weekly updates from DGB sent to your inbox, enter your email address in the space below to subscribe:
By subscribing you agree to DGB sending you weekly email updates with all published content on this website, as well as any major updates to the services being run on DGB. Your data is never passed on to third parties or used by external advertising companies. Your data is protected and stored on secure servers.